Art Education Leadership Award Winners 2019
Awarded to visionaries who continually inspire their peers in the art education community through their online school gallery on Artsonia.
Congratulations to:
Katie Allain- Shatekon Elementary, Clifton Park NY
Laura Allan- North Elementary, Villa Park IL
Susan Bivona- Mount Prospect School, Basking Ridge NJ
Nanette Bratton- Green Valley Christian School, Henderson NV
Katherine Byrd- Callisburg Elementary, Gainesville TX
Janine Campbell- Byron Center West Middle, Byron Center MI
Carly Dellger- Schultz Elementary, Mishicot WI
Tricia Fuglestad- Dryden Elementary, Arlington Heights IL
Gena Maley- Murray Middle, Murray KY
Theresa McGee- Hinsdale Middle, Hinsdale IL
Cynthia Moore- Moran Prairie Elementary, Spokane WA
Lynette Robinson- Lincoln Heights Elementary, Greenville MI
Jeanna Schinderling- C C Lee Elementary, Aberdeen SD
Jennifer Sims- Munfordville Elementary and Hart County High, Munfordville KY
Eleni Strawn- Garrison-Jones Elementary, Dunedin FL
Shatekon Elementary School- Clifton Park, NY
I have been teaching Elementary Art in the NYS Capital Region for over 11 years. I received my BS in Art Education with a concentration in Drawing and Painting from The College of Saint Rose (2008) and my MS in Curriculum Development and Instructional Technology from The University at Albany (2015). I began my career as a traveling art teacher in South Colonie CSD, teaching K-12 Art in five different schools. I was primarily focused at the elementary level but also taught additional courses at the middle and high schools. I was granted tenure in my position before losing my job to budget cuts. I moved on to Mohonasen CSD where I taught 3-5th grade grade Art at Pinewood Intermediate School. I was granted tenure in my position in 2015. In 2018, I made the decision to leave Mohonasen for a position at Shatekon Elementary School in Shenedehowa CSD. This is my first year teaching at Shatekon and already know that I have found my forever home. I am grateful to work with some of the most hard working young artists I've ever encountered. The support from my colleagues and school community have made this the best year yet. I am an active member of the New York State Art Teachers Association and NAEA. I love learning from artists and educators through professional organizations, conferences, workshops, and social media groups. I am honored to know that our art is bringing joy and inspiration to others! For more daily art inspiration, follow our classroom art-ventures on Instagram, Twitter, and Facebook, @MrsAllainArt
North Elementary School- Villa Park, IL
I have been teaching Art in District 45 since 2001. I taught for 10 year in various districts before I came to North Elementary School. I enjoy working to help each student develop the artist within them. We work on developing our understanding of the elements of art and explore how they can be used with a variety of art media. I encourage them to have a positive attitude, and try their best. It is my hope that they will continue to develop this positive, "can do" approach in all areas of their life as they learn and grow, not only as artists, but as the wonderful people they were meant to be. It is a joy working with the students of North School. .
Mount Prospect School- Basking Ridge, NJ
This is my 18th year at Mount Prospect, but my 28th year teaching Art. I received both my BS and my MEd in Art Education from Kutztown University in Kutztown, PA. I am very excited to share the Artwork our students work so hard to create with family, friends and...the world.
Green Valley Christian School- Henderson, NV
I am the Jr-Sr High Art Teacher at Green Valley Christian School for 12 years. Before becoming an art teacher I was a Regional Visual Manager for Macy's Las Vegas. I attended Brooks College, CA. My experience in design, creating environments using design and art have brought a uniqueness to the classroom. In the classroom, I want my students to find their creative ability and expression through art. My belief is everyone is an artist, they just need to exercise their right brain to tap into that creativity.
Callisburg Elementary School- Gainesville, TX
I am the Art Teacher for Callisburg Elementary. For the last 4 years I've been using Artsonia as a great way for parents and families to view their student's work. It is a great way to keep parents involved in their student's work- and also a great backup plan in the off chance that artwork does not make it home in the same condition as it left the school.

Byron Center West Middle School- Byron Center, MI
Art is Magic! It is my passion to teach the tricks of the trade at BCWMS. I began teaching Art in 2004, quickly after obtaining my Bachelor's degree in Art Education from the University of Michigan-Flint and then my Master of Arts in Art Education from Western Michigan University. I have been instructing the Visual Arts classes at BCWMS since the 2006/07 school year. I love teaching Middle School and could not imagine being anywhere else. I believe in teaching students to think like artists and provide the skills needed to achieve goals when making new art. I look forward to posting their wonderful works on Artsonia.. My students are amazing talents and I feel fortunate to share their creations with the world.
OH Schultz Elementary School- Mishicot, WI
I am an artist and educator in Mishicot, WI. I moved to the area after graduating with degrees in Drawing and Painting, as well as Art Education, from UW-Milwaukee in Milwaukee, WI. The students at OH Schultz are so talented! I am a lucky lady to get to teach such fine artists.
Dryden Elementary School- Arlington Heights, IL
I have fun making art, exploring new ideas, and being creative. I try to impart this joy to my students as I introduce new concepts and project ideas. Life is too short for long faces! If you would like to Catch the Fuglevision...go to http://drydenart.weebly.com/fugleblog.
Murray Middle School- Murray, KY
I am in my 22nd year of teaching at Murray Independent Schools. I teach Art to around 660 students in grades 4th-8th each year. I received a Bachelor of Fine Arts with an Art Education Teaching Certification & a Masters in Arts in Education from Murray State University. I also obtained National Board Certification in Early and Middle Childhood Art. I was recognized as Middle School Art Teacher of the year in 2012 by the Kentucky Art Education Association & honored to receive the 1st place Distinguished Regional Educator Award in 2018. I became a teacher because I love sharing my love of Art with others & seeing my students grow creatively every day. "Some people only dream of meeting their favorite artists... I teach mine."
Hinsdale Middle School- Hinsdale, IL
Beginning at a very young age, I had the privilege of experiencing a wealth of public art and its cultural influences while growing up on the north side of Chicago. I believe that my visual experiences had a direct impact on my attitude and love for visual art. As I worked my way through school, my mother always encouraged me to work hard at EVERYTHING but "BE what you love". Visual art was an easy "love" to figure out in my career path. However, it wasn't until I became a Junior Lifeguard Program Coordinator at Leone Beach in Chicago that I realized that influencing the lives of children was the other "love" for me. My experiences in the Junior Lifeguard Program gave me the wisdom to change my college major from computer graphics to art education. I received my degree in Art Education K-12 from Northern Illinois University and student taught in Deerfield, Illinois. I began teaching in Hinsdale District 181 in 1997 and at Hinsdale Middle School in fall of 2014. Realizing my desire to work with children, I pursued and completed my Masters in Education in Curriculum and Development from Benedictine University. I have spent my career working to integrate technology into every area of teaching. Beyond student-generated computer art, I use the Internet and other multimedia avenues to teach and inspire the children. I have found that Artsonia allows the children to explore art and technology outside of class, reinforcing previous lessons taught and communicating their accomplishments with family and friends. I strive to help develop creative thinking, self-confidence, and connections between art and everyday life experiences in a challenging and enjoyable learning environment. I believe that building vocabulary and critical thinking skills are essential to the achievement of success in all academic areas. Most of my students will not become artists, but ALL will be called on to be creative and appreciate the importance of high quality work. I strive to help install these qualities in the children everyday.
Moran Prairie Elementary School- Spokane, WA
I am an Art Specialist at Moran Prairie Elementary School, grades K-6.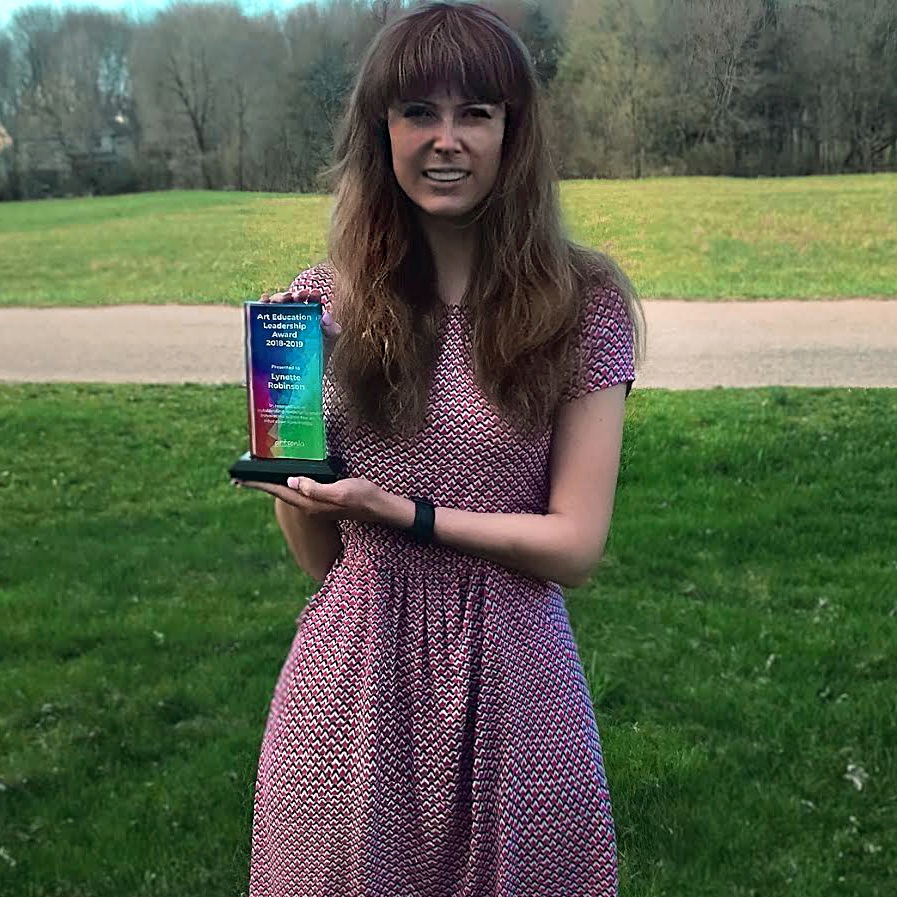 Lincoln Heights Elementary School- Greenville, MI
Lynette Robinson is Lincoln Heights K-5 Art Teacher! She previously taught two years at East Kelloggsville Elementary. She graduated with a Bachelors degree in Art Education and Illustration from Kendall College of Ferris State University. She has a passion for teaching visual arts and loves sharing students' artwork!

C C Lee Elementary School- Aberdeen, SD
I am currently in my 5th year of teaching K-5 art at C.C. Lee Elementary and Lincoln Elementary in Aberdeen, SD. I also teach grades 7-12 at the School of Visual Arts in Aberdeen's community center (ARCC). I have a bachelor degrees in Art Education and Music Education from Northern State University. I am interested and skilled in many different forms of art, but my main focus is painting.
Munfordville Elementary and Hart County High- Munfordville, KY
Mrs. Sims is a 1987 graduate of Hart County High School. After leaving high school she attended Western Kentucky University receiving a BA and a Master's degree in Art Education. Mrs. Sims has been teaching Art in Hart County for the past twenty one years. Although in the past she has taught students at Munfordville, Bonnieville, and Cub Run in the District for the past 14 years she has just taught at Munfordville. This year she became the high school art teacher for Hart County High School. In education she was honored as "Elementary Art Teacher of the Year for 2003-2004", "Middle School Art Teacher of the Year for 2010-2011", "Special Needs Art Educator 2015-2016" and "Kentucky Art Educator of the Year 2016-2017" by the Kentucky Art Educators Association. She was also awarded "Teacher of the Year" by the Hart County Chamber of Commerce in 2008. In 2007 she earned her National Board Certification in Art for Early Childhood through Adolescents and renewed that certification in 2017. She is the 4-H Team America Rocket Challenge and Student Launch Initiative mentor that works with NASA. She is a member of KEA, NAEA, KyAEA and the World's Greatest Studio Tour of Bowling Green. She has presented workshops locally and at the state and national levels on various topics about art and technology in the classroom. She is on the board of directors for KyAEA where she serves as Regional Director for the association. Along with being a teacher she is a working artist with her artwork in galleries in Bowling Green and Louisville. Her work has been a part of many art shows and exhibits throughout Kentucky and National shows in Maryland and Texas. Mrs. Sims also is an Associate Professor of Art for Western Kentucky University. Mrs. Sims continues to work toward bringing art and artists to our community and county. Mrs. Sims also co-owns Sims Studios and Art Shop with her husband, Jesse Sims who also is an artist. She has one son, Draven.
Garrison-Jones Elementary School- Dunedin, FL
I have been the full time art teacher at Garrison-Jones Elementary since 2009. I hope you are enjoying seeing all of the beautiful artwork created by the talented students at Garrison-Jones Elementary.